WELCOME! We are excited to have you as part of our Eagle Nation! This page will provide you with the information you need to successfully enroll in one of the four Thatcher Schools. We hope to make your enrollment experience a smooth and enjoyable one. If you have any questions about the process, please contact the office of the school your child will be attending.
Starting in the 2020-2021 school year, our registration process was moved to an online system in order to eliminate paperwork and to streamline data collection. The system is used for all students regardless if you are new to the District or are a returning student.

In order to use the system, a parent or guardian MUST have a ParentVue account.
Please follow the instructions below, specific to your situation, to begin the registration process.
JDPS (K-2) - (928) 348-7240
TES (3-6) - (928) 348-7250
TMS (7-8) - (928) 348-7260
THS (9-12) - (928) 348-7270
District - (928) 348-7200
If you are a brand NEW FAMILY to our district, meaning you have NEVER had a child in our school district before, you will need to create a new account using this link.
Once you click on the link, click on the grey bar below the login button that says, "Click here if you do not have an account, need to activate your account. or have forgotten your password"(see picture below) and then click on Create a New Account and follow the prompts.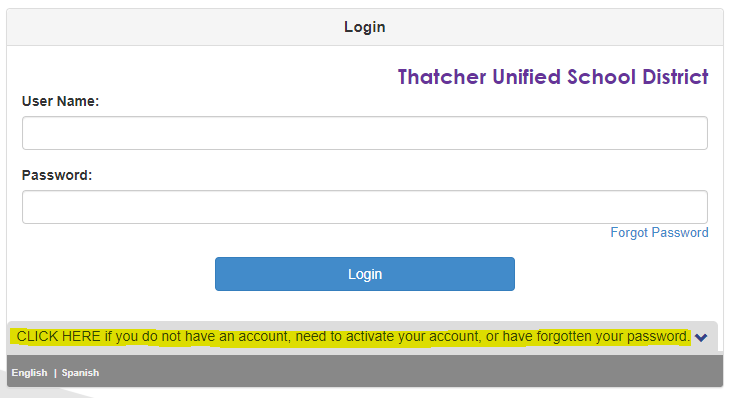 If your student is returning or you have had ANY student in our school district at anytime over the past 10 years (does not have to be the student you are registering now), then you are considered a RETURNING FAMILY* and should use this link to access your ParentVue account.
If as a returning family, you do not know your ParentVue account information or have never set one up, please follow the steps below:
Try using the forgot password link. If you have access to the email address that is on file in our system, you will be emailed your account information.
If the forgot password link does not work for you or you have never set up an account, please contact the office of where your child will be attending:

Please DO NOT create a new account if you have had a student in our school district before as this will only delay the registration process as it will create a duplicate parent/student record.